Maurer Productions OnStage is conducting OPEN auditions for the Comedy-Adventure play Around the World in 80 Days, by Mark Brown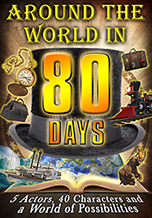 AUDITION DATES:
July 18, 2015 from 12pm to 5pm
July 19, 2015 from 12pm to 5pm
AUDITION LOCATION:
Mercer County Community College
1200 Old Trenton Road
West Windsor, NJ 08550
CLICK HERE TO AUDITION
Maurer Productions OnStage is conducting OPEN auditions for the Comedy-Adventure play Around the World in 80 Days, by Mark Brown, Auditions are July 18th & 19th and the show will run at the Kelsey Theatre in West Windsor, NJ October 9th- 18th, 2015. All roles are open. To download a detailed audition packet, CLICK HERE.
AUDITION APPOINTMENTS
Appointments are highly recommended but walk in's are welcome. This is a high energy play where four men & 1 woman play 40 characters; all roles are open. To get audition details and register for an audition appointment online, visit our CastMe website, or email us at audition@mponstage.com, or call (609) 882-2292.
ABOUT THE PRODUCTION TEAM
Over the last 11 years, MPO has staged 30 productions at Kelsey Theatre which have been honored with 60 NJACT Perry Award nominations and 12 wins in various technical and performing categories.
This main stage production will be directed by MPO's Artistic director John M Maurer, who's past directing work includes Laughter on the 23rd floor, The Drowsy Chaperone, Spamalot , Lend Me a Tenor and Avenue Q .
The Award-winning production team of MPOnStage brings you a Comedy/Adventure for the whole family. Stampeding elephants! Raging typhoons! Runaway trains! Unabashedly slapstick! Hold onto your seats for the original amazing race! Join fearless adventurer Phileas Fogg and his faithful manservant Passepartout as they race to beat the clock! Phileas Fogg has agreed to an outrageous wager that puts his fortune and his life at risk. With his resourceful servant Passepartout, Fogg sets out to circle the globe in an unheard of 80 days. But his every step is dogged by a detective who thinks he's a robber on the run. Danger, romance, and comic surprises abound in this whirlwind of a show as five actors portraying 40 characters traverse seven continents in Mark Brown's adaptation of one of the greatest adventures of all time.