October, 2015 For Tickets Call 609-570-3333
Only 3 Performances Left!

Around the World
in 80 Days
By Mark Brown

"Mark Brown has given us the world of Jules Verne's Phileas Fogg live on stage. We have 5 actors playing 40 characters' and a world of possibilities to explore and we intend to make the most of it. Why don't you come to the Kelsey Theatre and take the journey with us?"
John M. Maurer
Director
Hear what the opening night audience had to say!
Read Lynn Miller's article on WWPinfo.com
5 actors play 40 characters!
PERFORMANCE DATES:
Oct 16, 17 - 2015 at 8:00pm
Oct 18 = 2015 at 2pm
TICKETS:
Tickets: $18 adults, $16 seniors, $14 students/children

About the Show
Award-winning producer and MPO Artistic Director John Maurer brings you Mark Brown's adaptation of Jules Verne's Classic
"Around the World in 80 Days".
Award-winning production team of MPOnStage brings you a Comedy/Adventure for the whole family. Stampeding elephants! Raging typhoons! Runaway trains! Unabashedly slapstick! Hold onto your seats for the original amazing race! Join fearless adventurer Phileas Fogg and his faithful manservant as they race to beat the clock! Phileas Fogg has agreed to an outrageous wager that puts his fortune and his life at risk. With his resourceful servant Passepartout, Fogg sets out to circle the globe in an unheard of 80 days. But his every step is dogged by a detective who thinks he's a robber on the run. Danger, romance, and comic surprises abound in this whirlwind of a show as five actors portraying 40 characters traverse seven continents in Mark Brown's new adaptation of one of the greatest adventures of all time.
ABOUT THE SHOW
> Order Tickets
> About Maurer Productions
KELSEY THEATRE
> Kelsey Theatre Website
> Directions to Kelsey
Kelsey Theatre 1200 Old Trenton Road
West Windsor, NJ 08550
Box Office Hours: Mon-Fri 9am-12pm;
One our before show time.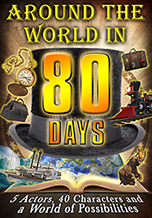 Maurer Productions OnStage, Inc | 62 Sherbrook Road | Ewing, NJ 08638