The Audience Has Spoken!
Everyone LOVES Beyond the Oak Trees!
Ademide Akintilo,* Abigail Ramsay, Elijah J. Coleman*
"The projection [design]s were very effective. It gave you the visuals of the past with important figures of those who were risen up since people were emancipatedand came through the underground railroad, and the acting...It was excellent."
Susan Klein
Princeton, NJ
Elijah J. Coleman,* Ademide Akintilo,* Abigail Ramsay
Devon Dodson
Bronx, NY
"Come with an open-mind and the show will give itself. Do you want to see something fun, something with a littlebit of history and something you can relate to, then come see Beyond the Oak Trees."
Abigail Ramsay
"I really appreciated how many different layersthere were...It was surprising but not out of place."
Maren Ogg
Metuchen, NJ
Ademide Akintilo,* Abigail Ramsay
Dawud Smith
Newark, NJ
"It was eye opening, informative,definitely something I would come back to see. Even as an African American history buff, some of the content I was familiar with and some information I did not realize. It served as an educational pinpoint for me."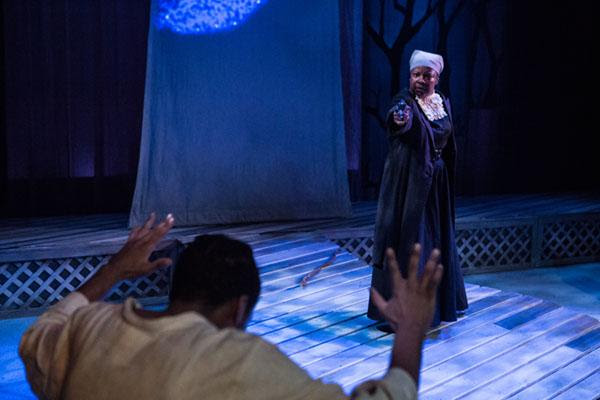 Elijah J. Coleman,* Abigail Ramsay
"I wish my 18-year old daughter could have seen it. She would have appreciated the modern take on Harriet Tubman."
Nicole Dookie
Freehold, NJ
Elijah J. Coleman,* Ademide Akintilo*
Marjorie Hall
Plainfield, NJ
"The show was different. Beyond the Oak Trees is a wonderful opportunity for those of you who do and do not have any knowledge of black history. You can get it here and get it accurately."
Elijah J. Coleman*
"You may think you know a lot of about Harriet Tubman but once you see this show you'll see how this still relates to us and how it is inspiring younger people today."
Patricia Lewis
Richmond, VA
Ademide Akintilo*
Kathy Valencia
Somerset, NJ
"I really enjoyed the way they contrasted the black experience today and what the black experience would have been during slavery. It is going to make me think for quite a while about a couple of subjects."
Abigail Ramsay
Photography: William M. Brown
*Appears courtesy Actors' Equity Association
Crossroads Theatre Company thanks its major supporters:
American Express
Johnson & Johnson
Geraldine R. Dodge Foundation
Middlesex County Cultural & Heritage Commission
New Brunswick Cultural Center
New Jersey Council on the Arts/ Department of State,
a Partner Agency of the National Endowment for the Arts.