2017-18 Season Opener
PAIK & BEETHOVEN
Fri, Sep 29, 8pm
Advent Lutheran Church (NYC)
2504 Broadway, New York, NY
Sat, Sep 30, 8pm
West Side Presbyterian Church (Ridgewood, NJ)
6 South Monroe St, Ridgewood, NJ
Sun, Oct 1, 3pm
Flushing Town Hall (Queens, NY)
137-35 Northern Blvd, Queens, NY
Hailed as a "sensitive and thinking musician first and an awesome technician second" (
Los Angeles Times
), internationally-acclaimed pianist
HAESUN PAIK
joins New York Classical Players for our season premiere. Top prize winner at the Leeds, Queen Elisabeth, and Tchaikovsky competitions, Paik lends her virtuosity to NYCP's program as the soloist in Beethoven's Piano Concerto No. 4. Works by Shostakovich, a Renaissance-inspired premiere by
ERIC NATHAN
, and Saint-Saens' well-loved Introduction and Rondo Capriccioso with violinist of the Grammy-nominated Enso Quartet
KEN HAMAO
complete this program of lyrical and thoughtful masterworks.
Dongmin Kim
conductor
HaeSun Paik
piano
Ken Hamao
violin
Eric Nathan / Omaggio a Gesualdo for String Orchestra (premiere)
Saint-Saens / Introduction and Rondo Capriccioso (NYCP edition)
Shostakovich / Prelude and Scherzo, Op. 11
Beethoven / Piano Concerto No. 4 in G major (
arr.
Yoomi Paick)
FREE SEATS
VIP SEATS
VIP seats can be purchased. We secure the best seats for you and your guests.
Introducing
PAIK & BEETHOVEN project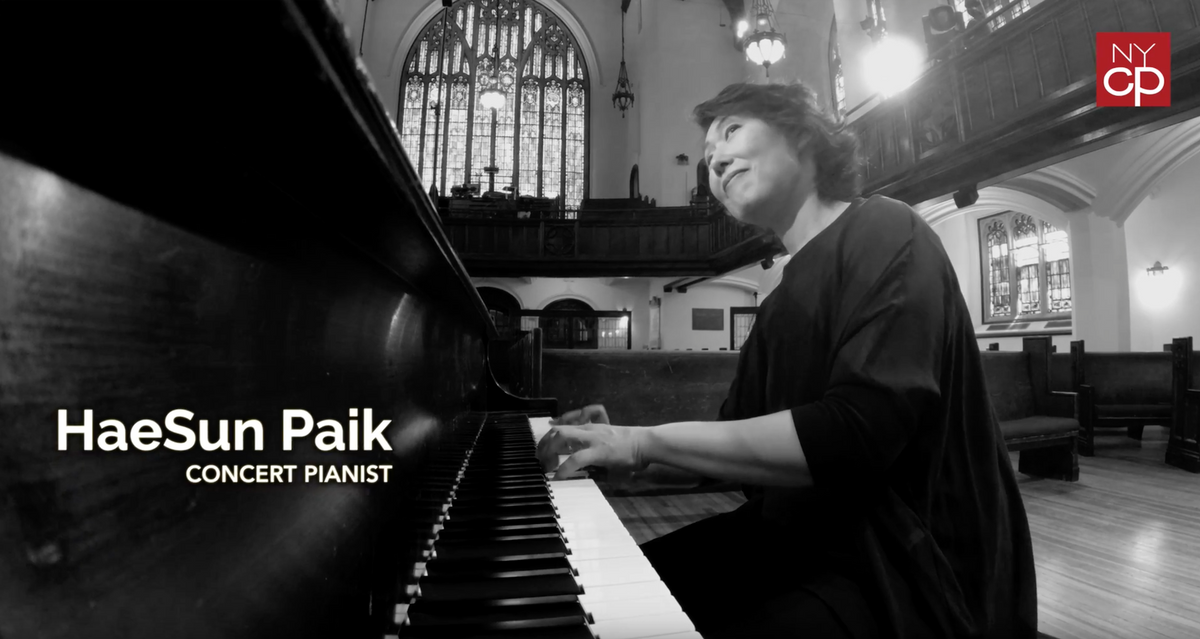 Click to watch the interview video
The 2017-18 season, NYCP is proud to announce a new endeavor with pianist HaeSun Paik to perform all five Beethoven piano concertos - including the singular Triple Concerto for Piano, Violin, and Cello - over the next three seasons. This project, which culminates in Beethoven's 250th centenary, allows NYCP to build a longstanding artistic relationship with the virtuosic Paik and delve deeply and immersively into Beethoven's legendary works for piano and orchestra. Flushing Town Hall joins NYCP as a presenting partner for the "Paik & Beethoven" Project, which begins with the 2017/18 season opening on September 29.
Paik says, "I'm very happy to join New York Classical Players for the Beethoven Project over the next three seasons. I've always admired NYCP's dedicated and passionate performances and their creative programs. I'm especially grateful because it's not just one project, but we are going to be playing all five Beethoven piano concerti and the Triple Concerto. We will work together, sweat together, and grow together over Beethoven."
2017-18 SEASON
- Piano Concerto No. 4 (Sep 29, 30, Oct 1)
2018-19 SEASON
- Piano Concerto No. 3 & 1 (Feb 15, 16, 17)
2019-20 SEASON
- Triple Concerto (Sep 27, 28, 29)
- Piano Concerto No. 2 & 5 (May 8, 9, 10)
2017-18 SEASON
New York Classical Players believe that access to musical excellence is an essential human right and presents all performances completely free of charge.
25 performances
15 venues
$0 Admission
NYCP is proud to announce the 2017/18 season, featuring NYCP's dynamic roster of musicians in 25 performances throughout New York City and beyond. All concerts are presented free of charge to all audiences.
The season builds on the ensemble's noted versatility, and showcases virtuosic performance, consummate artistry, and the pure joy of musicmaking.
The 2017/18 season features guest performances by some of today's leading classical musicians, including 2016 Avery Fisher Career Grant-winner
Tessa Lark
, pianist
HaeSun Paik
- whose performances are "a wonder — elastic, mercurial, charged with meaning, surprising" (Boston Globe), and
William Short
, Principal Bassoonist of the Metropolitan Opera Orchestra. From Bach's beloved Brandenburg Concertos to the poetic fire of Saint-Saen's Rondo Capriccioso, the ensemble's five cycles of orchestral programs will delight music lovers of all ages and backgrounds.
In December, NYCP returns to
the Library of the Performing Arts at Lincoln Center
for "
American Encounters
," the ensemble's annual three-concert
chamber series
exploring the Library's astonishing archives of American chamber music. Copland's beloved Appalachian Spring open the series, followed by retrospective performance of Dvorak's American quartet and the four-player works inspired by this legendary contribution. Works by Amy Beach, Rebecca Clark, and Mary Howe conclude the series in a concert exploring the underplayed works of American women composers. An exhibit of the original scores offers an unparalleled opportunity for audiences to deeply connect with the music of "American Encounters."
Beyond its seasonal offerings for local audiences, NYCP takes it artistry on the road for its first-ever
Arkansas Tour
in October, sharing the ensemble's vision and artistry with audiences in Little Rock, Jonesboro, and Fayetteville, among other Arkansas communities. The statewide tour partners NYCP with local universities, blending the ensemble's model of free performance with community outreach and educational programming for student musicians.
Dedicated to expanding the chamber orchestra repertoire as well as championing the works of the next generation of composers, NYCP performs five premieres this season, including a new chamber arrangement of Beethoven's Piano Concerto No. 4 by
Yoomi Paick
, a reimagining of a Schubert fantasy by
Dobrinka Tabakova
in a New York premiere, and
Eric Nathan
's "Omaggi a Gesualdo", a new work inspired by the complex and austere beauty of Renaissance music. Past premieres have included works by Clint Needham, Texu Kim, Joseph Hallman, Edward Smaldone, and Teddy Niedermaier, among others.
NYCP is presented free of charge thanks to the generous supporters who share our commitment to accessible and extraordinary performances.
Your donation is essential and will keep us doing our concerts FREE.
DONATE
website
facebook
instagram
twitter
youtube
NEW YORK CLASSICAL PLAYERS, Inc.