NJPAC Stage Exchange Reading of Darrah Cloud's Turning
Friday, March 2 at 7:00pm
NJPAC's Chase Room
Darrah Cloud's
Turning
dramatizes the experience of the young women on the inaugural women's gymnastics ("turning") team as they sailed with Jesse Owens and other athletes to Hitler's Germany, to compete in the 1936 Olympic Games – the first year that women's gymnastics was included in the Olympics, and the first time that world-class gymnastics coaches had to coach women. At the time, women's turning was considered a taboo sport, and many of the team members had to rise above resistance from their fathers, husbands and others.
Centenary Stage Company in Hackettstown is the partner theater for Turning.
Learn more »
_________________________________________________________
Upcoming Stage Exchange Readings
Waves Upon the Shore by Stephen Fredericks
Friday, April 20 at 7:00pm
NJPAC's Chase Room
The Growing Stage: The Children's Theatre of New Jersey in Netcong is the partner theater for "Waves Upon the Shore."
Learn more »
A new play by Tanya Saracho
Friday, May 25 at 7:00pm
NJPAC's Chase Room
Two River Theater in Red Bank is Ms. Saracho's partner theater.
Learn more »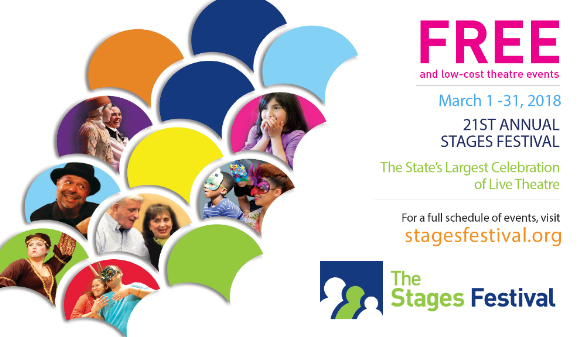 THE 2018 STAGE FESTIVAL INTERACTIVE CALENDAR IS HERE!
Please visit stagesfestival.org to search 90+ performances, readings, workshops, camp samplers, and special theatre events all across New Jersey throughout the month of March. 85% of the events are FREE, and the rest run from $2 to $20.
Click on the interactive map or on your county below:
a

Atlantic Bergen Cape May Cumberland Essex Hudson Mercer Morris Ocean Passaic Somerset Union Warren
Our Spotlight Sponsors:

The Stages Festival is a project of the New Jersey State Council on the Arts and New Jersey Theatre Alliance.