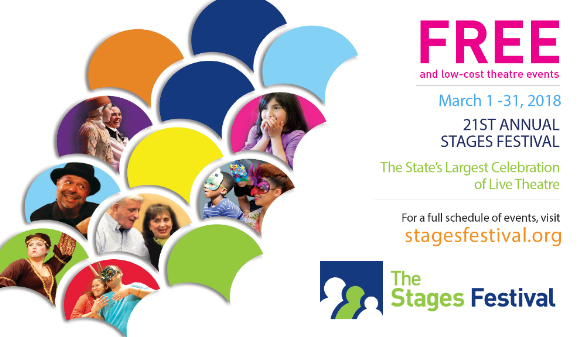 THE 2018 STAGES FESTIVAL INTERACTIVE

CALENDAR

IS HERE!
Please visit

stagesfestival.org

to search 90+ performances, readings, workshops, camp samplers, and special theatre events all across New Jersey throughout the month of March. 85% of the events are FREE, and the rest run from $2 to $20.
Bring your family and your friends to experience the quality, inspiration, and richness that New Jersey's professional theatres have to offer. Every March, The Stages Festival offers free and discounted performances, workshops, play readings, and behind-the-scenes events for all ages. Events are presented by professional Equity theatres; some take place at their theatres, and some take place in libraries, community centers, performing arts houses, schools, and more.
Pop Culture and American Theatre: past present, and future
Tuesday, March 20 at 7pm
Lewis Center for the Arts, Princeton
On the fringes of pop culture, and often giving a platform for "unpopular" voices, theatre has nonetheless infiltrated and been infiltrated by its force. This panel discussion among leadership from four of the state's top professional theatres will explore the tension and the harmony between theatre and pop culture.

Learn more »


Mile Square PlayGround: The Forest by Lia Romeo
Tuesday, March 20 at 7:30pm
Mile Square Theatre, Hoboken
In The Forest, by Hoboken playwright Lia Romeo, Juliet is losing her marriage. Her mother, Pam, is losing her mind. And there's a mysterious forest growing in and around their living room.

Learn more »
Mi Casa Tu Casa
Wednesday, March 21 at 4:00pm
Newark Public Library, North End Branch, Newark
A bilingual blend of music and folktales for the entire family. Una mezcla bilingüe de música y cuentos para toda la familia. Los musicos y cuentistas serán sus guías en este viaje a travós del tiempo, lugares y la imaginación.

Learn more »
The Wizard of Oz
Wednesday, March 21 at 6pm
Cape May Elementary School, Cape May
After ten hours of rehearsal

in seven days

, 22 fifth- and sixth-grade students will perform an adaptation of L. Frank Baum's American classic, complete with costumes, props, and sets, as they bring Dorothy, the Wicked Witch of the West, Cowardly Lion, Tin Woodsman, Scarecrow, and other characters to life.

Learn more »
New Jersey Women Playwrights Showcase of New Work: Wish Bone by Phoebe Farber
Wednesday, March 21 at 7:30pm
Jersey City Theatre Center, Jersey City
Wish Bone is set in a small town in Virginia whose main industry is a poultry processing plant. the play explores our capacity for cruelty and the choices we make to close our eyes to the suffering of others.

Learn more »
Peter and the Wolf
Thursday, March 22 at 6:00pm
Stafford Branch of the Ocean County Library, Manahawkin
This tantalizing version of the classic Russian folk tale, Peter and The Wolf, brings together all the elements of growing up – daring, defiance, confidence, and courage. An exquisite setting on the edge of a forest captures the carefree colors of childhood while Prokofiev's classical music reflects the ups and downs of the day as the story unfolds.

Learn more »
Get Jigging With Us: Irish Step Dancing Night
Thursday, March 22 at 7:00pm
Two River Theater, Red Bank
Gear up for Two River's upcoming production of Dancing at Lughnasa with an Irish Step Dancing lesson held right here in our lobby! The Jig Factory Irish Dance School will perform a couple dance numbers and teach all in attendance a series of traditional dance steps. Afterward we invite you to stick around to enjoy traditional Irish tea time treats and live music by The Kilkenny Cats trio. No dance experience required. All are welcome!

Learn more »
Schoolhouse Rock Live!
Friday, March 23 at 7:00pm
Stony Brook Elementary School, Pennington
Schoolhouse Rock, Live! follows Tom, a nerve-wracked school teacher who is nervous about his first day of teaching. He tries to relax by watching TV, when various characters representing facets of his personality emerge from the set and show him how to win his students over with imagination and music.

Learn more »
A Cinderella Tale … Happily Ever After
Friday, March 23 at 12:00pm
Jackson Branch of the Ocean County Library, Jackson
A Cinderella Tale takes young audiences on that sometimes happy, sometimes sad, but always
compelling journey fueled by inner beauty, courage, and kindness as they triumph over greed and
arrogance.

Learn more »
Healing Voices OnStage: Caregiver Stories
Friday, March 23 at 7pm
Bickford Theatre at the Morris Museum, Morristown
Join the New Jersey Theatre Alliance, Premiere Stages, and Writers Theatre of New Jersey for a free evening of theatre highlighting the caregiving experience. Now in its third year at the Bickford Theatre, the project weaves together short works of prose, poetry, and dramatic monologues/scenes by personal and professional caregivers into an original theatrical piece, and has expanded to incorporate submissions by those receiving care as well as providing it.

Learn more »
Sherlock Holmes Adventure of the Speckled Band - Radio-Style!
Friday, March 23 at 7:00pm
Oakland Public Library, Oakland
ELTC invites you to be part of our "radio audience" when they perform this famous mystery with live sound effects and commercials, and actors portraying several roles to make the tale come to life.

Learn more »
Boy Sees Flying Saucer
March 23-25
The Growing Stage: The Children's Theatre of New Jersey, Netcong
"A flying saucer came down and took my bike," he says and the adventure begins! What Bobby doesn't expect is the arrival of a "mystery man" and the revelations that unfold! Bobby has to decide whether to continue the "fib" or confess the truth.

Learn more »
Sample Summer Camp Day:Level 1 (Grades 2-4) Creative Drama